Sheet membrane waterproofing systems are designed for above and below grade use as well as horizontal and vertical applications. Sheet membranes can be installed utilizing one or more layers depending upon the system specified. An advantage that sheet membrane offers over fluid application is that it gives a guaranteed membrane thickness that does not rely on the installation process. Sheet membrane can be self-adhered or torched in place.
SELF-ADHESIVE /HOT TORCH SHEET MEMBRANE
Self-adhesive and hot torch sheet membrane is produced with a special multi-layered design incorporating a glass fiber reinforcement which is impregnated and coated on both sides with a uniquely formulated, elastomeric, thermoplastic rubber which provides high adhesives properties.
Benefits:
Thickness controlled & guaranteed by factory prefabrication
Ease of application
Standard Application:
Primer coat with bituminous primer
Lay membrane and ensure all membrane overlaps to be fully bonded and properly sealed
Typical Drawings:
Product Brand being used:
Fosroc Proofex 12
Grace Bituthene 3000
Fosroc Proofex 3P/4P
Ardex Shelterbit 3mm / 4mm
Tremco Tremproof 1400 SRT / Tremply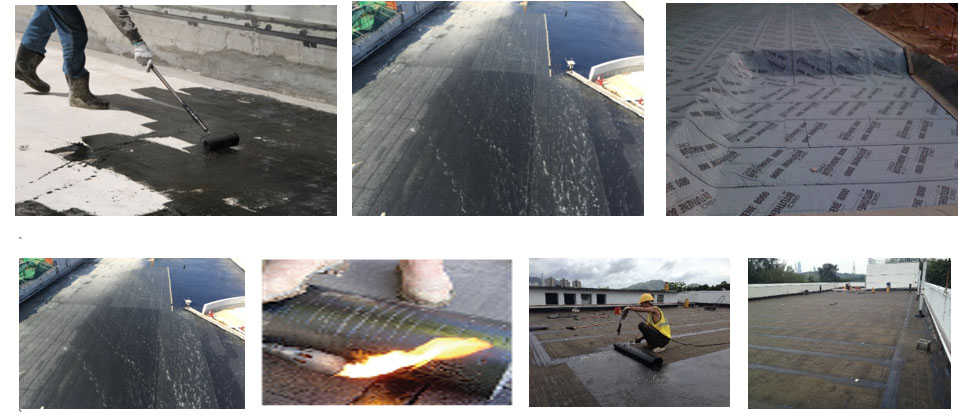 Hot Torch Sheet Membrane is a uniquely formulated prefabricated waterproofing membrane with a special multilayered design for superior pliability, tensile strength, workability and resistance to elements. The multilayered design consists of a spun-bonded polyester core coated on both sides with APP / SBS modified bitumen.